Creative Smart Bluetooth G Night Lamp
Creative Smart Bluetooth G Night Lamp
Regular price $129.95 Sale $160.00
The G Speaker Lamp is a unique device that combines a high-quality speaker and a LED lamp into one stylish and compact design. The speaker delivers powerful and clear audio using advanced technology and has Bluetooth connectivity for easy wireless charging & streaming from any Bluetooth-enabled device.
WHY G SPEAKER LAMP WAS BORN

Finding true peace of mind becomes a goal we all aspire to after a long day at work. G Lamp Speaker recognizes the value of inner peace and your well-being.

This mood lamp was created to make your home a relaxing and peaceful haven, providing calming and therapeutic effects to improve the quality of your sleep, study or meditation.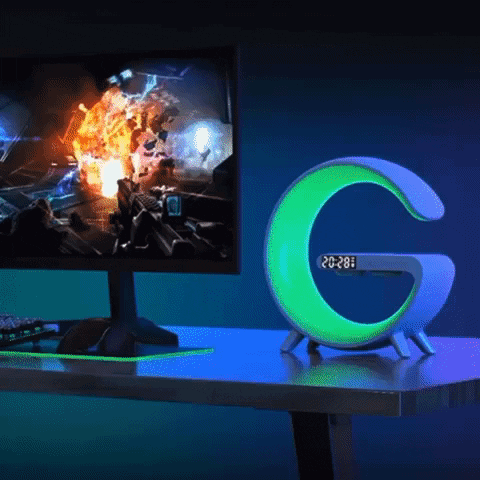 HOW IT HEALS THE MIND AND SPIRIT
Lights and colors, as an integral part of our lives, can profoundly influence the body and mind by triggering psychological reactions and hormonal changes. G Lamp Speaker, through its color therapy, responds to specific needs such as creating positive energy or reducing anxiety.

When we refer to color therapy, we talk about lighting as a treatment to relieve stress and increase energy. This lamp has 9 different ambient lighting modes to suit any occasion, such as yoga, reading, meditation, and work.
SYNCHRONIZE THE LIGHTS WITH THE BEAT OF YOUR FAVORITE SONGS
The lamp has a clear and clean sound. A built-in
Bluetooth speaker
of the highest quality is ideal for playing your favorite songs and playlists with light effects that synchronize perfectly with your tunes.
Turn on the lamp and music, sit back and create an atmospheric environment to relax.
SLEEP BETTER AND WAKE UP REFRESHED
Our G Lamp Speaker helps you get a better rest with useful sleep functions to calm your mind and body. In sleep mode, you can enjoy a quiet night light or choose a soothing white noise to gently fall asleep. When it's time to wake up, it lights up and activates a gentle alarm clock, which then, with the Snooze function, can give you another 9 minutes of rest and then wake up again.
NIGHT LIGHT WITH WIRELESS CHARGING
Our G Lamp Speaker takes care of you throughout the night. One touch enables night light mode, which gives you a soft glow so you can easily move around the room in the dark of night.

It also keeps your Smartphone charged for the next day with both a built-in 15 W wireless charging pad and a 5 W USB Type-C output for other mobile devices.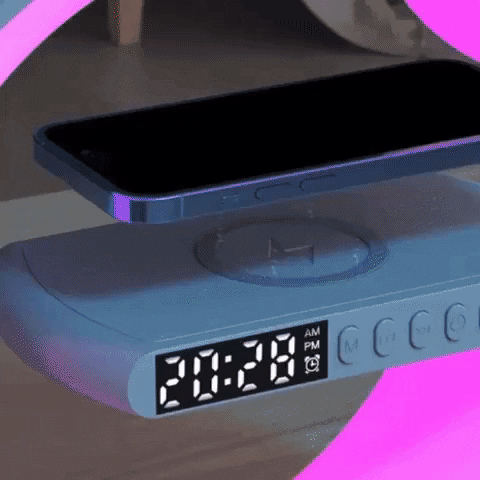 AESTHETICALLY PLEASING DESIGN
G Lamp Speaker has a relaxing G-shaped design and extraordinary visual aesthetics: it perfectly integrates its colorful lighting effects and becomes a shining beacon of light that will attract attention because of its extraordinary beauty.

In addition, it has endless functionality:
Bluetooth speaker for music and phone calls;
Phone answering function;
Alarm clock light;
Control of lighting effects via APP;
16 million clear colors and 256 lighting modes;
Chromotherapy;
Control of features via buttons;
15 W wireless fast charging for smartphones.
TECHNICAL SPECIFICATIONS
Color: white, black
Material: ABS, PC, metal
Communication mode: Wi-Fi (2.4G) + BLE module
Control mode: control by button, control by APP
Input: 24W adapter (12V 2A), DC input
Output: Type C output
Power: 24W (maximum)
Speaker: 3 W
Weight: 700g
Dimensions: 22.9 x 8.4 x 23.1 cm
Wireless charging: max 15 W